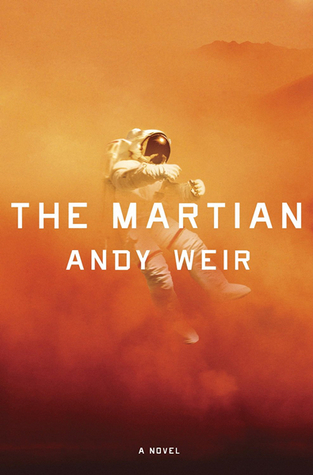 A few weeks ago, the trailer for the upcoming sci-fi film The Martian released online. Look, here it is. Watch it. I'll wait.
Looks pretty great, right? I saw it was based on a book. "Should I read the book?" I wondered aloud on social media.
Then social media nearly peed itself with enthusiasm. "YES," everyone said, "READ THE MARTIAN."
Okay, I thought. It had been a while since I'd read any adult sci-fi that really engaged me as a reader, and I was way overdue for something good. So I ordered the book, and waited eagerly for its arrival.
And dude.
Dude.
The Plot (from Goodreads):
Six days ago, astronaut Mark Watney became one of the first people to walk on Mars. Now, he's sure he'll be the first person to die there. After a dust storm nearly kills him & forces his crew to evacuate while thinking him dead, Mark finds himself stranded & completely alone with no way to even signal Earth that he's alive—& even if he could get word out, his supplies would be gone long before a rescue could arrive. Chances are, though, he won't have time to starve to death. The damaged machinery, unforgiving environment or plain-old "human error" are much more likely to kill him first. But Mark isn't ready to give up yet. Drawing on his ingenuity, his engineering skills—& a relentless, dogged refusal to quit—he steadfastly confronts one seemingly insurmountable obstacle after the next. Will his resourcefulness be enough to overcome the impossible odds against him?
My Thoughts:
THE MARTIAN is, hands-down, one of the best books I've ever read. I don't mean "best" in a technical sense — although I don't think it has many faults in that arena either — but in a couldn't-put-it-down, laughed-out-loud, recommended-it-to-everyone-I-knew, still-thinking-about-it-weeks-later sense. I loved it so much it's hard to write a review without devolving into incoherent squealing noises, but I shall try.
The appeal of THE MARTIAN hinges almost entirely on its main character, Mark Watney. The vast majority of the book is his first-person journal entries, where he describes his efforts to survive alone on a hostile planet, for years, using accommodations and supplies meant to last a month. This is a dangerous device, because if the reader doesn't like the main character, there's literally nothing else to focus on. Mark is it, at least for the first significant chunk of the book. Take him or leave him.
Fortunately, Mark Watney is the kind of character I could read forever. Though most of his narration is spent breaking down the science of survival (soil cultivation! structural engineering! making water out of rocket fuel!), which sounds like it should be the most tedious of subjects, I was riveted from the first page to the last. He had a way of describing even the most complex processes in ways that were not only easy to follow, but exciting and, against all odds, funny. Never in my life would I have thought I could be so invested in potato farming, or laugh so hard at the woes of a man caught in such dire circumstances.
There are no bad guys in THE MARTIAN, and it doesn't need any. There is only Mark (and, eventually, NASA) versus Mars. Since Mars is always present, and always deadly, the tension stays ratcheted up throughout. Life on Mars may be monotonous for Mark, but for the reader, there are no dull points. Everything Mark does is a matter of life and death, all told through a lens of determination, scrappiness, and wry (occasionally profane) humor.
Science is practically a main character in THE MARTIAN, but author Andy Weir — through Mark — breaks it down into language that was completely accessible to me, a total layman. Even though practically every page contains Mark working through calculations, conducting chemistry experiments, or engineering unorthodox solutions to his problems, the narrative never felt bogged down by it, nor was I ever confused. Everything from the technology to Mark's methods to NASA's reactions were all presented in such a compelling and believable way that I occasionally had to remind myself that this was science fiction, not a true story.
THE MARTIAN is everything I want in science fiction. High stakes, excellent pacing, unexpected humor, an amazing premise, smart yet accessible science, and fully realized characters that I miss once the last page is turned. It easily launched itself to the top of my list of favorite books, and is a story I look forward to re-reading many, many times. 100 out of 5 stars.