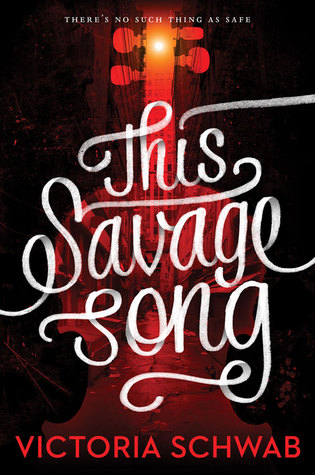 It's been a few years since Victoria Schwab has given us a new YA; she's been spending the past couple years working toward world domination establishing her adult brand with Vicious and the Darker Shade series. During that time, she's gained a lot of new readers, and I hope they follow her back to her YA roots for This Savage Song. 
I wasn't sure what to expect from her monstrous new release (every time Victoria was asked about it, responses ranged from nonverbal grunting noises to maniacal cackling to "it's so weird, you guys") but once I finally got my grubby little paws on an ARC and read the first few pages, I couldn't put it down. Now I can honestly say that This Savage Song this is my favorite of Victoria's YA. Tonally, it feels like the younger YA cousin to Vicious, which is my favorite book of Victoria's overall, and I am so excited that it's finally crept its way into the world.
The Plot (from Goodreads):
There's no such thing as safe in a city at war, a city overrun with monsters. In this dark urban fantasy from author Victoria Schwab, a young woman and a young man must choose whether to become heroes or villains—and friends or enemies—with the future of their home at stake. The first of two books.
Kate Harker and August Flynn are the heirs to a divided city—a city where the violence has begun to breed actual monsters. All Kate wants is to be as ruthless as her father, who lets the monsters roam free and makes the humans pay for his protection. All August wants is to be human, as good-hearted as his own father, to play a bigger role in protecting the innocent—but he's one of the monsters. One who can steal a soul with a simple strain of music. When the chance arises to keep an eye on Kate, who's just been kicked out of her sixth boarding school and returned home, August jumps at it. But Kate discovers August's secret, and after a failed assassination attempt the pair must flee for their lives.
My Thoughts:
For the past couple years, Victoria (V.E.) Schwab has been focusing on her adult books, with Vicious and her Darker Shade series. However, This Savage Song takes her back to her start in YA, with an urban fantasy that explores the question of what it means to be monstrous. For readers of her adult works, expect a tone closer to Vicious than Darker Shade, and for readers of her YA, be prepared for a darker, twistier tale than either The Archived or The Near Witch.
This Savage Song takes place in a time and place not too removed from the world we live in now, except for one crucial detail — in this world, acts of violence breed literal monsters. The more horrific the violence, the more terrible the creature it creates.
August, one of the two narrators, is one such monster, born out of an event so horrible, he can barely bring himself to think of it. He wants nothing more than to be human, but throughout the story, it becomes increasingly clear why that can never be possible, and why, even so, he can never stop trying.
Kate Harker, the other narrator, is the teenage daughter of the most powerful man in the city, and would happily throw away her humanity if it won her the attention of her father. She and August don't so much come together as collide, and the narrative of This Savage Song clearly relishes playing out the tension between the monster boy longing for the very thing his human companion doesn't seem to value at all, and the girl trying to reconcile what she knows of monsters with the boy standing in front of her.
It's hard to discuss the plot of This Savage Song without getting into spoilers, so suffice it to say that the entire book is a tense, thrilling exploration of what it means to be human, what can make someone monstrous, and the marks violence leaves, both on the soul and on society. Kate and August's relationship follows one of my favorite trajectories in fiction, from enemies to wary allies to respected partners to trusted friends, and I loved every delicious moment of their slow-burn friendship (is slow-burn friendship a thing? Because it should be).
I also was fascinated by the monsters that populated the dark world of This Savage Song. For the most part, they are not the mindless, salivating brutes of horror novels and fairy tales, but sinister, intelligent beings with agendas of their own. When the story starts, the monsters have more or less taken over the city, but they still have structure and hierarchy within their new, monstrous society. I've always considered worldbuilding one of Victoria's great strengths, and This Savage Song is no exception, as she feels her way through how the world as we know it would change — and how it would remain the same — if monsters roamed among us.
I'd be remiss if I didn't mention the writing itself; as always, Victoria's prose is beautiful, each word carefully chosen, each paragraph meticulously crafted. On a sentence level, I truly feel she's one of the most talented writers in the game today. There's hardly a page that goes by without a phrase that would be appropriate to print in loopy script and place in a frame somewhere. Her worldbuilding is lush and detailed, the dialogue sharp, the action taught, and the act of reading her words is decadence and joy and education all in one.
Make no mistake, This Savage Song is very dark, probably Schwab's darkest since Vicious, and therefore won't be for everyone. It's violent and disturbing and, at times, very sad. But despite its darkness, it's not a depressing book. Yes, Kate and August go through terrible trials and have to face awful things, but when I turned the final few pages of This Savage Song (which, it's worth noting, ends on a very satisfying note, despite this book being the first of a duology), I felt oddly uplifted. For me, though it's subtle, there was an undercurrent of light woven throughout the story, enough to leave the reader with the impression that though things may get bad, so bad it seems nearly impossible for them to ever turn around, that there is always hope. There is always goodness somewhere, maybe buried deep, maybe not where you'd expect to find it, and you might have to fight tooth and nail to get to it, but it's there nonetheless. It's a difficult balance to strike, but in my opinion, it's executed beautifully here.
If you are a fan of urban fantasy, unlikely friendships, gorgeous writing, and thoughtful explorations of morality and monstrousness, rush to your local bookstore and dive into the world of This Savage Song today.