Remember a million years ago when I was going to talk about movie adaptations of books and the changes made to the source material and whether or not it worked and it was going to be great — and then I never did it again? I'm sure you were real broken up about that.
But this week, before Jurassic World hits theaters, I wanted to talk about the movie (and book) that started it all, Jurassic Park.
Jurassic Park is one of my favorite books of all time. Of. All. Time. It was my gateway into the world of science fiction. I've read it so many times my old mass-market paperback is falling apart.
I love the movie too. But it's totally different. Totally. Different. It's one of those rare instances where completely altering the plot and characters from the original actually worked to the adaptation's favor. And today, because I am seeing an advance screening of Jurassic World tonight and can think of little else, I want to talk about some of those differences, for better or for worse.
Top Five Best Changes for the Movie:
5. Gennaro dies on a toilet
No-one's-favorite-character Donald Gennaro, the "blood-sucking lawyer" who panics and hides from a T-Rex in a rickety bathroom stall, actually makes it all the way through the book. Yes, Ian Malcolm dies and Gennaro lives, because in the book, life is unfair and chaos theory reigns supreme. In the book, Gennaro isn't even present during the T-Rex attack, and another character (Ed Regis, who is not in the movie) runs off and dies instead. But for the purposes of film, having a T-Rex eat Gennaro by plucking him off a toilet established what the characters were up against in one massive chomp, and we didn't even have to lose a character we liked to accomplish it.
4. John Hammond is Santa, so of course he lives.
In the book, Hammond is not the kind, gentle, every-grandpa of the movie, but a greedy, manipulative old miser who learns absolutely nothing during the meltdown of the park, blames other people for everything that goes wrong, and in the end gets slowly nibbled to death by compys on a beach. Good riddance, book readers think when he dies.
In the movie, John Hammond is misguided, sure, but we still love him.
"Mr. Hammond," Grant says at the end, "After careful consideration, I've decided not to endorse your park."
"So have I," Hammond replies, jaw set as he drives the escape vehicle to the helicopter.
Book!Hammond would never do this. He'd never admit he was wrong. It works in the book — which is about chaos and the hubris of man and the vast power of nature and the resiliency and resourcefulness of humans in desperate circumstances — but in the movie, which is about rampaging dinosaurs, there's really no need for a human villain.
3. Lex is not entirely insufferable 
In the book, Tim is both the older sibling and the computer nerd. Lex is his younger tomboy sister, and basically does nothing helpful the entire book. In the movie, they made her the older, tech-savvy sibling. She's the one who gets the Park's electrical systems back on line toward the end, she distracts a velociraptor from eating her little brother in the kitchen scene, and though Lex is probably not anyone's favorite character, without her involvement, a few more beloved characters probably would have gotten eaten.
2. T-Rex gets the hero save
The movie is not at all concerned about all the pesky science in the book; it just wants to give us cool dino action. And it delivers. The T-Rex in the book is only ever a gigantic, menacing animal, but the T-Rex in the movie swoops in like Batman at the end to save our main quartet from raptors, and then roars triumphantly as the Jurassic Park banner flutters dramatically to the ground, and oh dear readers, it is glorious.
1. Ian Malcolm lives
Ian Malcolm's injuries from the T-Rex bite are far worse in the book than in the movie, and just before the end, he succumbs to them and dies. This is then retconned in the opening pages of The Lost World, in one of the least-believable passages I have ever read in a Crichton novel — and Crichton books are about dinosaurs and aliens and time travel and homicidal gorillas — probably because Jeff Goldblum was popular and Hollywood wanted a sequel starring him. Which was…terrible. But, horrible sequels aside, for the sake of the movie, keeping Malcolm alive was a smart choice. It would've been a lot harder for the movie to have the optimistic ending it did if Jeff Goldblum had not been grinning on that helicopter.
Top Five Worst Changes for the Movie:
5. Grant and Ellie never sneak into a velociraptor den with a bunch of nerve-gas grenades
A big subplot from the book which the movie pretty much ignores is Alan Grant's obsession with understanding how the raptors are reproducing and how far they've spread so that they can be sure they eradicate them all. Gennaro wants to blow the whole island up with a bomb, but Grant insists that first they must infiltrate a raptor nest and count eggs so they know how many raptors they're dealing with. So Grant, Ellie, and Gennaro squeeze their way into an underground raptor den armed with a bunch of nerve-gas grenades, intending to do the count, then kill all the raptors. Before they can, all the raptors run away and they don't wind up gassing them, but watching our main characters crawl into a nest and hide right under the noses of a den of raptors would have been pretty great.
4. Henry Wu is only a cameo appearance, not a main character
Having one of the park's chief scientists along for the ride adds a ton of insight into the dinosaurs (in the movie, Grant picks up some of that slack, but a lot of Wu's contributions are just omitted entirely), and really plays up the science aspect of this science-fiction story. However, keeping him out of harm's way in the first movie — in the book, Wu is eaten by a raptor toward the end — has left the door open for him to be alive and kicking and still cloning dinosaurs twenty-two years later in Jurassic World.
Huh. Maybe it's not good that Wu survived, since he apparently learned nothing.
3. Grant never bowls poisoned dinosaur eggs down a deserted hallway
At one point toward the end of the book, the kids and Gennaro get cornered by raptors, and Grant lures them away to the hatchery, where the dinosaur eggs are kept. He then injects the eggs with a lethal poison and rolls them down the hall to the raptors, where they eat them and then drop dead. It sounds dumb when I explain it like this, but in the book it's extremely tense. Much like the kitchen scene in the movie (which I love and would like to keep — I just also want the egg-bowling scene).
2. Grant and the kids never take a hazardous boat ride down the river
I think we're learning by now that I really liked a lot of Grant scenes in the book that never made it into the movie. In the book, Grant, Tim, and Lex take a raft down the river (because Jurassic Park has a river) that takes them through the aviary, to the lodge. They are attacked by pterodactyls. They dodge the T-Rex again. They go over a waterfall. Alas, none of this is in the movie. And when we finally do get boats and pterodactyls in Jurassic movies, it's awful.
Oh well. At least we'll always have The River Wild.
1. Robert Muldoon dies
Robert Muldoon is the only character who actually deserved to make it through this story. He is knowledgeable about dinosaurs, he respects them, he warns everyone time and time again about how dangerous they are, he understands how they hunt — and in the book, all this knowledge and respect and cunning is rewarded by him making it off the island. And while allowing for his death in the movie gives us one of its best lines, I will always wish that he had then promptly escaped by crawling through a pipe, as he does in the book.
Also, my personal theory is that Jurassic World is the result of Hollywood realizing this, and deciding that not only should Muldoon have lived, but he should have been the main character, and then building a movie around it. No one can convince me that Chris Pratt is not just playing Robert Muldoon 2.0.
I could keep going — there are a million and five changes between the book and the movie — but I think you get my point. Normally part of me cringes when a movie deviates significantly from its source material, but I'm still able to love Jurassic Park for what it is. It's awe-inspiring and suspenseful, full of adventure and heroism and moments of humor and wonderfulness.
Still, part of me is glad that Jurassic World is not based on a book, so that I won't have anything in my head to compare it to (then I remember that Jurassic Park 3 was not based on a book and it was terrible, but shhhhhh I'm trying to block that out).
How about you? If you've read the book and seen the movie, what were some changes that you liked? Or parts from the book that you wish they'd kept? Or you can just talk about how excited we all are to see Jurassic World and the Chris Pratt Raptor Motorcycle Gang, because let's be real —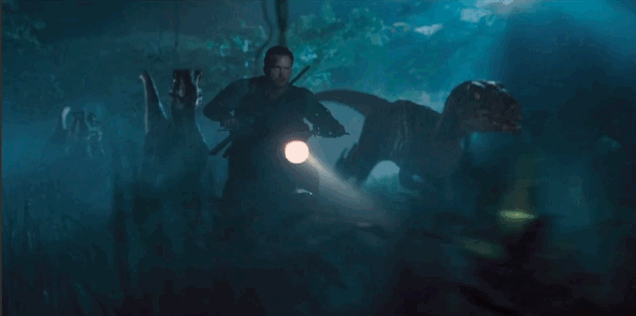 — This is awesome.